The Photo Co-Op has opened on Tontine Street. The studios are run by Lee and Rosie Hooper and offer the chance to scan your negatives, or print your photos in their black & white or colour dark room. You can also learn picture composition and generally discuss how to be creative with your photography.


Folkestone is a town with so many visual pleasures that any one of us has turned photographer at sometime or another. You might be interested in catching the light, framing your subject or discovering a new camera, Lee is here to help. Previous winner of the Portrait of Britain, Lee spoke to Folkelife about his passion for photography.
"I picked up a film camera in 2003 and just started playing around with it. Photography can be quite a solitary occupation but I find it incredibly relaxing. I took up Dark Room Skills at college and loved that aspect of photography too. That's what we're trying to create here – a community feel to photography.
"What I really enjoy is taking photos of people. I want to be able to capture a beautiful image that notes that point in time. It's about capturing someone's personality. I'm quite a shy person and I think photography gives me the tool to connect with people. We always start off with a conversation, I want to find out about the people I work with. It's intriguing, to me, how people operate, who they are, why they are the way they are."
"If you look at any magazine such as Vogue today, pretty much all the photography there is done on film. It's like vinyl, it has more layers to it! Certainly, it's the preference of professionals. I've found though that there aren't many places developing film so that's why we've opened up here. Anyone can come and scan their negatives, and learn how to develop for themselves. We're also working in digital too and making people feel happy about photographing different subjects. Whether you're using digital or film, photography is about light, colour and how to capture an image in that frame."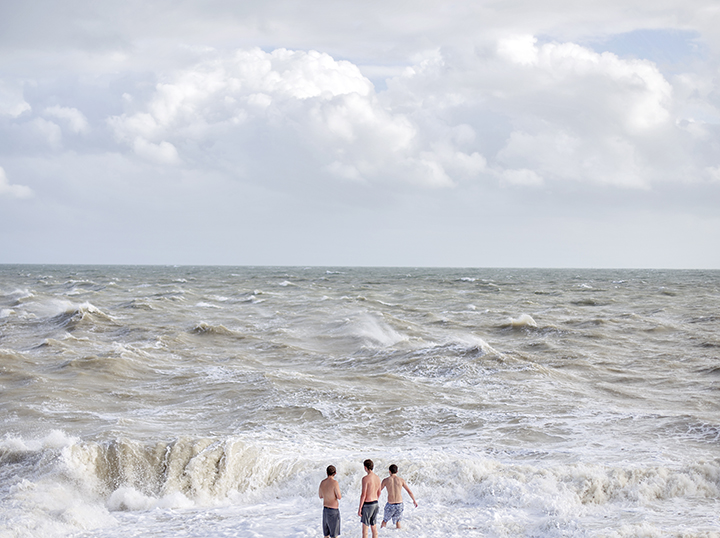 "If you're using film instead of digital, the whole photographic process is slower, it's more considered. You only have 36 exposures, so you can't take 100 snaps hoping that one of them will be right. There's a quality to film photos too, the product has a certain look and feel to it that digital can't quite replicate. In some ways photography had become too clean and then Instagram allowed you to add filters and reproduce imperfections that make your image unique.
"We're going to run workshops on how to create certain effects. Folkestone is such a beautiful town to photograph that we see a lot of great photos. If someone were trying to take a picture of France – you know when it's so clear that you can see across the channel, yet it never seems to come out on your phone? Well, it's probably because you need a camera where you can control more of the settings – the aperture and the shutter speed for example. These look at how much light is coming into the lens, and what area of the picture you're focusing on."
"We all have the opportunity to take photos now with our phones, and I do this too. Our workshops will be open to anyone, regardless of what you're taking your photos on! I'm not against technology progressing, and after all, the Turner Prize was won by a photo taken on a phone. But I don't want to lose touch with analogue, and I'd love to show people the relationship between that and the history of photography. Whatever you learn in your analogue photography will help with your digital pictures."
"I started a project 4 years ago, which is still ongoing, called Sea Change, where I photographed and documented Folkestone's youth culture. I love taking photos of the streets, and the people in them. So far, I've photographed over 300 young people. These people are the next generation who are going to make quite an impact on the town – whether they stay here or move away. The streets are so photogenic, there's an edge here, the community is so varied and there's lots going on. Folk are really interesting too."
"We want to run exhibitions here, and workshops and talks and so on. What I really want to do is just encourage people to pick up a camera, to take photos and to be inspired. Whether you want to photograph the sea, the artworks, or your family!"